! --- Hope Chests,cedar chests,oak chest,hope chest,cedar lined,hope,Amish chests,blanket chests,steamer trunk,Armoires,storage chests,jewelry,cedar lined,trinket box, --- >

CALL US 717-850-3637

We have over 00 chests in every style and color IN STOCK ready to go!
On the Web Since 1995

Stock Hope Chest orders ships next day!
All custom Chests are being shipped (4) weeks from order date.


Basic Flat Top
Solid hardwoods, Beautiful Finishes. All chest are solid 1" thick wood. We finish all (4) sides with 2 coats of satin lacquer.
Basic Cedar Chests come with out lock. The lid stay is a standard folding type.
Remember...Our Chests are Handmade by skilled Amish Craftsmen. The Finish is exceptional. through out the entire chest quality is superb!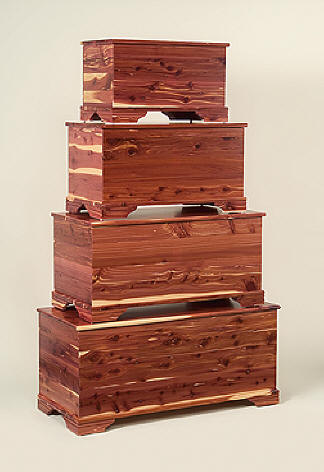 Basic Cedar Chest - 100% Solid Cedar, Rock Solid with a beautiful finish. We call it basic because of its simplicity not because its built different. In fact it is built with the same joinery the same 1' thick walls and hinges as any of our chests. No Lock is available on this Model!
Basic Cedar Chest - (Mini) $269.00


24" L x 13-1/2" W x 14-1/2" H

Basic Cedar Chest - (Small) $309.00


30" L x 15-1/2" W x 16-1/2" H

Basic Cedar Chest - (Medium) $349.00


36" L x 17-1/2" W x 18-1/2" H

Basic Cedar Chest - (Large) $399.00


42" L x 18-1/2" W x 19-1/2" H
Only Available in Cedar. Cedar slowly loses its aroma over time. You can revive the fragrance by lightly sanding it with 220 grit sandpaper.
Options - NONE AVAILABLE.
We are usually on a (3)week production schedule. Please remember all chest are custom made.
NO OPTIONS CAN BE ADDED TO THIS MODEL CHEST AND WILL BE DELETED IF ORDERED WHEN WE PROCESS YOUR ORDER!
Finishes - Dovetail joints - Seat Cushions - Seat rail - Cedar Lining - Cedar Slide Tray
---
Chanel outlet
rolex pas cher
replica watches uk
mulberry outlet
chanel replica
rolex replica